Note: SV Messaging is a premium offering for Salesforce customers. If you'd like to add SV Messaging to your Signal Vine account, reach out to your account team.
Sending a message to the results of a report
One of SV Messaging's most useful features is the ability to message people based on a Salesforce report. There's a little bit of prep work to do in advance, but once you'd figured it out you'll quickly see how powerful this little feature can be.
To take advantage of this, you simply need to have SV Messaging enabled to allow bulk messaging - if you don't, speak with your Administrator - and a report you want to use as the audience of a message.
Create a report
To start with, you're going to need a build a report. In this example, we're going to message a bunch of Contacts. Within Salesforce, you'll want to go to Reports. From here, you can either create a new report or start with a report you already have.
Once you've created a new report (or picked on you have), you'll need to modify the fields shown a little bit. First, you'll want to add the Contact ID to the report:
Once the field is added, you'll need to make sure the Contact ID is the first column in your report:
Any other fields you include are up to you - SV Messaging only needs that Contact ID, but you may want other fields included to ensure you know who is in the report. Contact IDs aren't the most human-readable thing.
Once you have the fields set, click Save & Run to generate your report:
Composing a message
Once the report is created, let's go back to SV Messaging and send a message with it. Load up your inbox and click the New Message button on the top right. Select the program you want to message from, then start typing the name of your report in the SEND TO field. Once you see your report in the list, select it.
That's it! From there, you simply compose your message and hit send. Your confirmation screen should confirm that you're sending to the results of your report.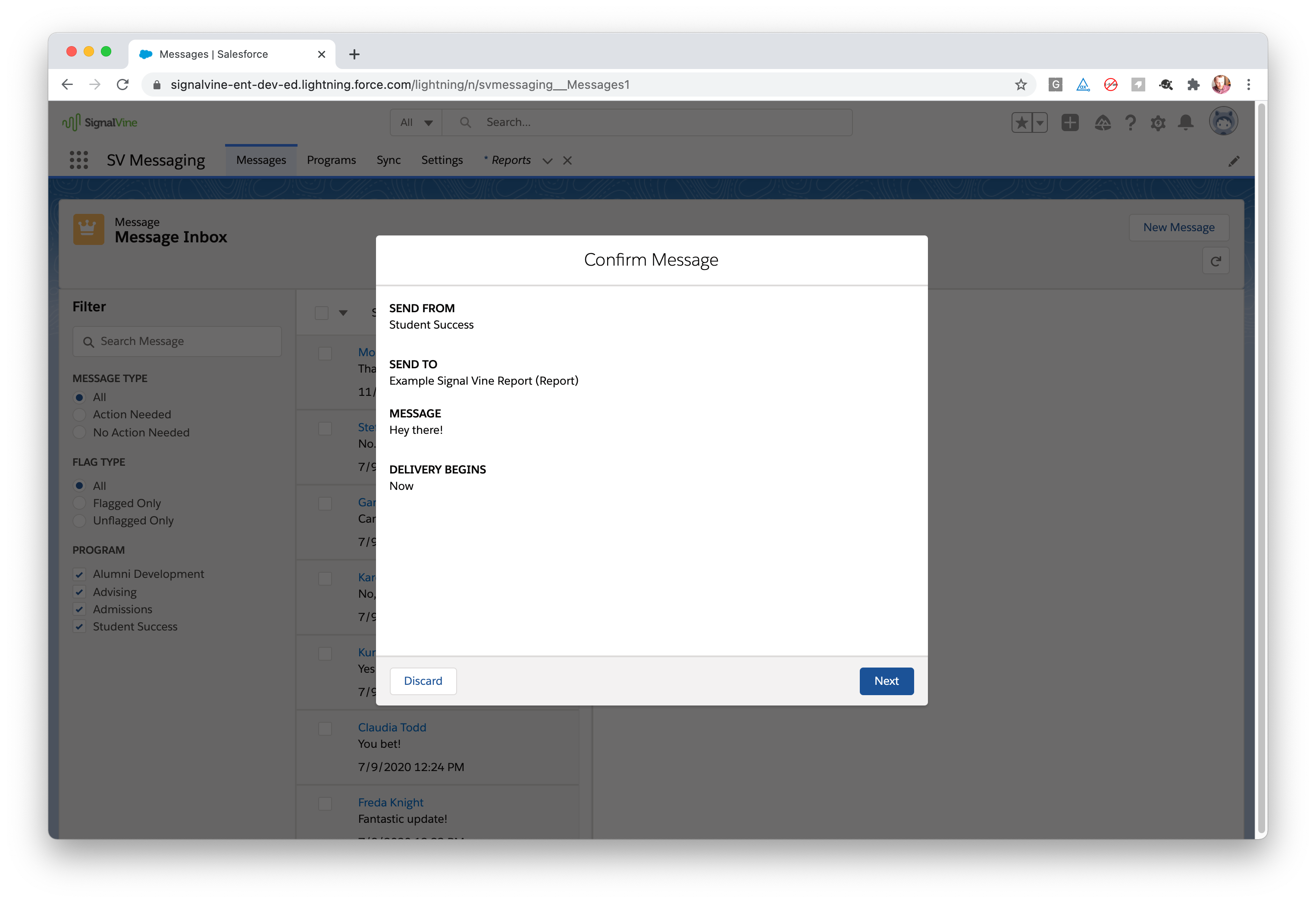 Frequently Asked Questions
What happens if the people in my report aren't in Signal Vine?
By default, anyone in the report will automatically be added and synced with Signal Vine when the message is sent. You don't have to worry whether you've already shared those Contacts with Signal Vine, we'll take care of it for you.
In some cases, your administrator may have disabled this automatic sharing of data with Signal Vine. When it's disabled, the message will only to people who both meet the report criteria AND who are already shared with Signal Vine.
Can this work with records that aren't Contacts?
Yes! All that matters is that the record type in your report matches the record type your administrator has setup for data sharing with Signal Vine. That is usually a Contact, but it could be an Account, a Lead, an Opportunity... really anything.